FBCH Women exists to know Christ and make Him known by equipping women of all ages and generations in spiritual disciplines and practices focusing on three areas: Connect, Grow, and Serve.
Communication - To opt in to receive informational texts & email messages about opportunities to Connect, Grow and Serve, click here Opt In
Connect
We are all hardwired by God for relationships, with Him and with others. Life is full of challenges and opportunities, and we need one another to encourage and point each other to Jesus. We are truly better together!
Hebrews 10:24-25 says, "And let us consider how we may spur one another on toward love and good deeds, not giving up meeting together, as some are in the habit of doing, but encouraging one another - and all the more as you see the Day approaching."
Connection Opportunities:
Conversation Tables
This is an opportunity for women to connect with other women on a deeper level. These are small groups of six women, sharing a meal together in a home, discussing four questions, in two hours. The intention of these groups is to get to know other women in our church across generations on a heart level, focused on conversation that draws our attention to God's work in our lives, meeting monthly from March - November. It's also a time of encouraging one another, as iron sharpens iron!

Because everyone's participation is important and necessary for each group to experience its full value, you will also be asked to sign a commitment covenant stating that you will commit to attend the meetings monthly and actively participate in the group.

Participant signup for 2023 Conversation Tables has closed.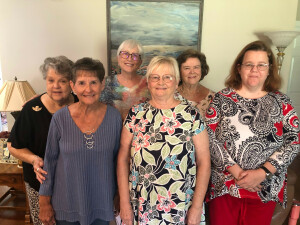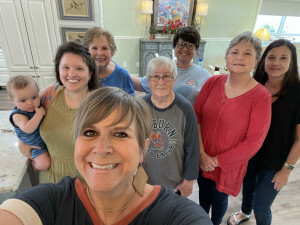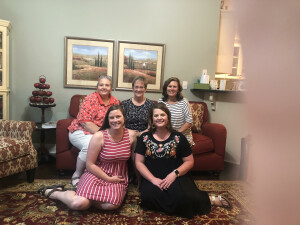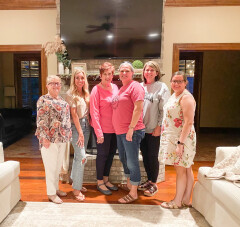 Prayer Connections
Have you specifically journeyed through or are you currently journeying through any life challenges like these or possibly other challenges such as anxiety, depression, infertility, singleness, loneliness, parenting challenges, being a caretaker, marriage problems, health issues (physical, mental, emotional - yours or a loved ones'), grief, etc.?
If so, please consider how you might contribute to or benefit from this prayer ministry. If God has carried you through a trial and you are willing to intercede for a lady who currently needs prayer for that specific trial OR if you are currently in a season where you desire prayer support in a particular trial, please consider participating in this ministry.
Prayer Connections will be an ongoing ministry, and ladies will be partnered as needs arise. Once partnerships are formed, we will be in touch with the intercessor with the name and contact information of who they will be praying for. The intercessor will in turn contact who they are praying for and determine their next steps. All information will be handled with the utmost confidentiality by our prayer partner team (Judy Gay, Lynn Sanders, and Amy Kennedy). This ministry is intended for prayer support and encouragement, not for counseling purposes.
Watch the video below to learn more about Prayer Connections.
Are you in need of prayer? Or is God calling you to be an intercessor for others? If the answer is yes, click the button below to get started.
Grow
Remaining in God's Word is necessary to become more like Christ. Our desire is to offer opportunities and resources for FBCH Women to grow consistently in their relationship with Christ.
John 8:31-32 says, "So Jesus said to the Jews who had believed Him, 'If you continue in My word, you really are My disciples. You will know the truth, and the truth will set you free.' "
Growth Opportunities
Sunday Worship: Our weekly corporate gathering is a time to worship, celebrate, and learn biblical truths. We encourage you to join us! Click Here for Worship Info
Sunday School: Several options are available for women to connect with other believers in a small group setting. There are gender-specific and couples class options. Click Here for Sunday School Info
D Groups: These are closed groups, consisting of 3-5 women per group, meeting weekly for one year, reading the same scripture plan, journaling what God is saying through the Scripture, and memorizing Scripture. These groups replicate at the end of their journey together, becoming disciples who then make disciples. D Groups form at the beginning of each year. For more information, contact the church office.
Women's Tuesday Morning Prayer: Tuesday mornings at 9:30 am at FBCH
Recommended Resources: Are you looking for resources to strengthen your spiritual life? Click a link below for a list of recommended books and podcasts from ladies of FBCH.
Links
Serve
As we grow and connect with one another, we want to glorify God through serving others.
1 Peter 4:10 says, "Each of you should use whatever gift you have received to serve others, as faithful stewards of God's grace in its various forms."
Service Opportunities

:
We are all called to serve. FBCH Women wants to encourage women to look for opportunities to be the hands and feet of Jesus in our daily lives. A conversation at the grocery store, befriending a coworker, sending a text, praying with someone, making a phone call, delivering a meal - how is God leading you to show His love today?
Throughout the year there will be opportunities for FBCH Women to serve our community together. As opportunities become available, they will be communicated on this page and on our social media, so check back often.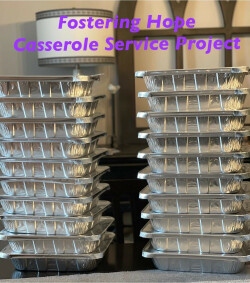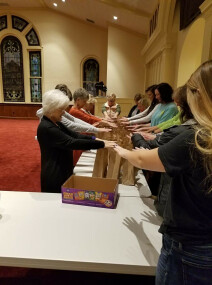 Stay in the know!
Social media - Follow us at Eventsand on Facebookor Instagramto learn more about opportunities to Connect, Grow and Serve.
Communication - To opt in to receive informational texts & email messages about opportunities to Connect, Grow and Serve, click here Opt In